Columns can add an elegant, dramatic touch to any wedding. They can be used as the focal point for the ceremony or strategically placed to create a regal setting. Columns can be wrapped in ivy and twinkling lights or used as stands for flower arrangements or other decorations. Rented columns can be costly and limited in color and style. Using cardboard carpet tubes, you can make affordable wedding columns designed to fit the theme of the ceremony.
Instructions
Obtain cardboard carpet or linoleum tubes from a local carpet or hardware store. Depending on the policy of the store, they will either give them to you or charge you a small fee.
Use a handsaw to cut away any damage from both ends of the tube, leaving both sides flat and even. Measure the tube from top to bottom and keep this measurement for the 2-inch by 4-inch (2×4) board.
Measure two 9-inch by 9-inch pieces of plywood. Mark your lines with a pencil and use a table saw to cut them out.
Lay the plywood on a flat surface. Place the ruler along the top of the plywood and mark the center. Repeat at the bottom. Use the ruler to draw a straight line down the center of the plywood connecting both marks. Do this for both pieces of plywood.
Place the ruler on the side of the plywood and mark the center. Repeat on the other side. Use the ruler to draw a straight line through the middle of the plywood from mark to mark. Do this for both pieces of plywood. The point where the two lines meet is the center.
Use an electric drill and pilot bit to drill a hole through the center of each piece of plywood.
Use a table saw to cut a 2×4 to the length of the carpet tube.
Place the cut 2×4 on a table with one end hanging off the edge of the table. Use a 1-inch wood screw and electric drill to attach one of the pieces of plywood to the bottom of the 2×4. Screw through the hole you drilled into the center of the 2×4.
Slide the carpet tube over the top of the 2×4.
Use a 1-inch wood screw and electric drill to attach the second piece of plywood to the top of the column. Screw through the hole you drilled into the center of the 2×4.
Place the column on a flat surface with a drop cloth underneath. Apply a liberal coating of joint compound to the tube and all exposed areas of the plywood. Use your hands for more-even coverage. Allow the joint compound to dry.
Roll the column over and coat the exposed plywood in joint compound. Inspect the tube for any uncoated areas and apply joint compound. Allow the joint compound to dry completely according to manufacturer's recommendations.
Use 220-grit sandpaper to sand the joint compound to a smooth finish.
Wipe the column down with a clean, dry cloth to remove any dust.
Place the column on a drop cloth in a well-ventilated area. Apply spray paint in the color of choice to all exposed areas of the column. Allow the spray paint to dry according to manufacturer's recommendations.
Roll the column over and apply spray paint to any uncoated areas.
When you make something with your own hands, like a homemade wedding decorations tree, it turns an ordinary reception room into one that is extraordinary. A homemade wedding decorations tree is simple to make. Some brides like the small potted tree that fits easily on a table. You can also make your own tree with any craft material. A homemade wedding decorations tree comes alive at your reception by focusing on a specific theme.
Hope Tree
This tree will be filled with wishes of hope from family and friends. Gather all the messages and place them into decorative frames. Tie a ribbon or wire to the frame and attach each one to the individual tree branches. Keep the notes brief — one or two sentences. In addition to wishes, place pictures of family members or friends inside the frames and add messages to the back. To make this a surprise for the wedding couple, hide the hope tree until the wedding day.
Destiny Tree
This is a tree filled with favorite photos of the bride and groom from their childhood years to the present. Create a heart-shaped paper frame for each photo. You will need at least 10 photos. Place newborn pictures at the bottom with the other photos ascending the tree up to the present to represent change over the years. At the top, place a large photo of the bride and groom. To complete the look, write a story about how the wedding couple met and were destined to be together. Arrange this framed story at the front of the destiny tree.
Ribbons of Love Tree
For a larger tree that is indoors or outdoors, create a ribbon theme. Rainbow-colored ribbons cascade down this tree with loving messages from the bride and groom to each other. Tie the ribbons individually to a tree branch. At the end of the ribbons, place the special message inside a small bottle or attach it to a candle. Turn a love note into an origami animal to hang from the ribbon. These messages will reflect the many ways the bride and groom love each other.
Fortune Cookie Tree
Fortune cookies are a simple way to add a little fun to the reception. They transform your tree into an edible piece of art. Place personalized messages of good fortune and hope inside each one for your guests. Tie the fortune cookies individually to the tree limbs. For one last token of your wedding, place several bowls of fortune cookies around the tree so that guests can take some home.
How to Use Mirrors in a Wedding Centerpiece. Using mirrors is a beautiful touch when decorating your wedding reception tables. If you are making your own wedding centerpieces, use mirrors to make your centerpieces appear larger and more dramatic. Here is how you do it.
Instructions
Purchase one-foot-square mirror tiles from your local craft store or home improvement center. These affordable mirrors come in a variety of styles, including smoked glass. (See Resources below.)
Place several mirrors on each table to form a base for your wedding centerpiece. You can use as many mirrors as you like. Depending on the size of the table, four mirrors usually works best, creating a 2 x 2-foot square.
Put a bowl of fruit or vase of flowers in the center of the mirrors. Use colorful fruit and flowers that will reflect nicely off the mirrors.
Sprinkle flower petals, glitter or confetti on the mirrors. You can stick to the color theme of the wedding or go for something neutral like gold or silver.
Place a tea light on each corner of the mirror base. These candles' reflections create a dramatic effect for an evening wedding.
Use large, framed antique mirrors as a base instead of mirror squares. Place one large mirror on each table and cover the mirror with loose flowers or flower petals.
For a nature-inspired wedding, the right centerpieces will really help you create a one-of-a-kind, lovely space. Consider using branches, either real or synthetic, to make unique centerpieces to adorn the tables in your reception area. These branches are considerably more affordable than other floral arrangements, and they create a very earthy, earth-friendly look.
Instructions
Choose branches that will fit with your wedding design scheme. You can arrange bare branches to look like trees in the center of your table, decorated with items to enhance your wedding theme. Or, you can choose branches with colorful flowers that match your color scheme.
Consider painting your branches. You may choose to leave your branches looking as natural as possible, or you can add polyurethane or even paint that match your wedding color scheme. Paints and varnishes will give your branches a more polished look.
Arrange your branches according to your desired fullness. For a sparser look, you can trim branches to make them look thinner. Or, you can cluster your branches to look fuller. Trim as needed with pruning shears.
Attach your branches to a piece of floral foam. This foam will be the base of your centerpiece. Push your branches into the piece of foam. For extra stability, add hot glue around the base to better hold your branches in place. Cover your base with paper, leaves, fabric or any other desired material to make your centerpiece look complete.
Consider arranging your branches in a glass dish. If you don't want to use floral foam for your centerpiece, you can create a lovely centerpiece effect by simply placing your branches inside a large glass vase or candy dish. Branches with colorful blooms work best for this look.
Add any desired decorative items to your branches. You can add tea lights placed inside delicate candleholders hanging from the branches. Or, you can add beads, moss or other decorative items. Consider making birds or flowers out of paper or fabric scraps and placing atop the branches. Hang ornaments or table numbers from the branches to help your guests find their seats.
An anniversary party with friends and family is a wonderful way to celebrate a couple's marriage, from the first year to the 75th. Table centerpieces for the party highlight the theme, and are often the part of the decorations that stand out most for guests. Centerpieces don't have to be expensive, and don't have to all be the same. Use lots of color and creativity to make the table decorations fun and enjoyable for your guests.
Instructions
Pick a theme for the anniversary party and incorporate the table decorations as part of the overall decor. Consider the time of the year in your theme, as inexpensive natural items make for creative centerpieces. Other theme ideas include the number of years of the anniversary, a hobby or interest of the couple, or a location that is special to the couple.
Select the colors for the party. If the anniversary is a "big" one, such as the 25th or 50th, you may want to use traditional colors, such as silver for 25 or gold for 50. Other options are the couples' favorite colors, or colors to match with the time of year.
Use candles. Surround large pillar candles in the center of the table with ribbon or tree boughs. Fill small glass bowls with a center candle and fresh flowers or colored marbles. Large pillar candles look beautiful inside hurricane glass domes.
Make a memory lane on the table. Place a wide strip of theme-colored ribbon across the table. Mount copies of photos of the couple and their children and family on colored card stock. Glue the photos on the ribbon. Each table can be different, perhaps highlighting children and grandchildren, vacations the couple have taken, or jobs and hobbies.
Fill colorful balloons with helium. Tie pretty ribbons to the balloons and candies at the bottom to hold them down.
Make tissue-wrapped jars that will stand out on the table. To wrap canning jars with tissue paper, lay out tissue paper in two or three shades of your theme color, with the darkest color on top and white on the bottom. Place a canning jar down in the middle and gather the four corners at the top of the jar. Tie matching ribbons around the neck of the jar.
Create a natural setting by using seasonal fresh vegetables and fruits. For example, if the anniversary is in the fall, use carved out and cleaned pumpkins as pot holders for mums or other fall flowers, and lean the pumpkin lid against the arrangement. Fill glass vases or bowls with colorful seasonal fruit or nuts that add fresh color to the table.
Scatter confetti all over the tables. Purchase confetti in a myriad of shapes and themes from party stores, or create your own with hole punchers. Confetti colors the table quickly and guests enjoy tossing it.
When planning your wedding, you may envision guests marveling at all of the sparkling decorations as they enter your ceremony and reception venues. However, your budget is limited and you don't want to break the bank to get the look you desire. Fortunately, you can complete many DIY projects that are both pretty and cheap.
Fabric
Invest in several bolts of tulle. Bolts of the fabric come at a very affordable price when bought in bulk. Use the tulle everywhere. Hang it from the ceiling, wrap it around pillars, create swags between the pews at your ceremony site and run it down the middle of your tables.
Lights
Stock up on white lights after Christmas, or ask friends and relatives if they can lend you lights from their own supply. Options vary from enclosing white lights in tulle and wrapping around the bridal table under the linens to lining your walkway with luminaries. Place candles around your reception venue for a romantic glow. Make miniature lanterns by cleaning out old baby food jars, filling with sand or decorative stones, placing a votive candle inside and stringing the jar to a hanging branch with sturdy wire.
Centerpieces
You can create a unique centerpiece for less than $10. Make a topiary out of a recycled pot, Styrofoam ball, moss, dowel rod, moss, ribbon and silk flowers. Make candy bouquets and place in a bright basket. Place a tiered cupcake stand in the middle of each table and fill with bright cupcakes. Place a row of pillar candles down the middle of the table and surround by moss or flower petals. Take decorative butterflies on a stem, wrap them together and place in a decorative container for a butterfly bouquet. Use several bud vases with a single flower stem in each one for a fresh look. Place several tulips in a vase and weight them down with fishing sinkers. Fill the vase with water for a submerged floral arrangement.
Favors
Favors add a decorative touch and help to fill up the table. You can also place the favors in a basket or hang them from a small tree in place of a centerpiece. Make edible treats and place them in a pretty satchel. Make your own body scrub from sugar, body oil, aloe vera and olive oil, and place in decorative containers. Wrap mints in tulle and tie with a colorful ribbon.
Seating Cards
An easy and cheap way to add a splash of color to your wedding decorations is to make your own seating cards in bold colors. Write each guest's name and table number on a bright piece of paper. Cut out, fold and add ribbon to the side of the card. Press flowers in a book and glue them around your table numbers. Paint a cheap picture frame with a distressed look for a vintage feel. Place the table number inside the frame.
Pew Decorations
Quickly decorate your church by using pew bows. Cut tulle or satin fabric and tie in the shape of a bow. Tie the bows around the pew. Another option is to create a kissing ball. Stick flowers through Styrofoam so they make a round arrangement. Attach ribbon and hang from the pew.
Secondhand Items
Scour flea markets, thrift stores and your own supply of secondhand items for candlestick holders, stemware, china, vases, candles and other decorations. Use a decorative bird cage in place of a wedding card box. Set the tables with sparkling glasses and white dinner plates. Borrow a couple of pieces of furniture to make a comfortable lounge area. Place photographs in old picture frames around the reception venue and near the guest book.
Focal Point
You do not need to decorate every area of your venue to achieve an elegant look. Concentrate instead on a few focal points. For example, place the bridesmaids' bouquets in vases on your bridal table for a lush look. Frame a cake table with a pretty canopy. Use a garden arch at your entrance, and cover it with tulle, flowers and ribbon. Use garden trellis against a wall and string flowers through the holes. Stack decorative hat boxes to give the illusion of a cake. Place coordinating flowers on the edges of the boxes.
Signs
An easy and cheap way to add decor to your venue is to make signs. Make a large sign pointing to the reception venue. Make it decorative by adding graphics or a stylish font. Make a reminder sign beside the guest book. Make a banner featuring with the couple's name.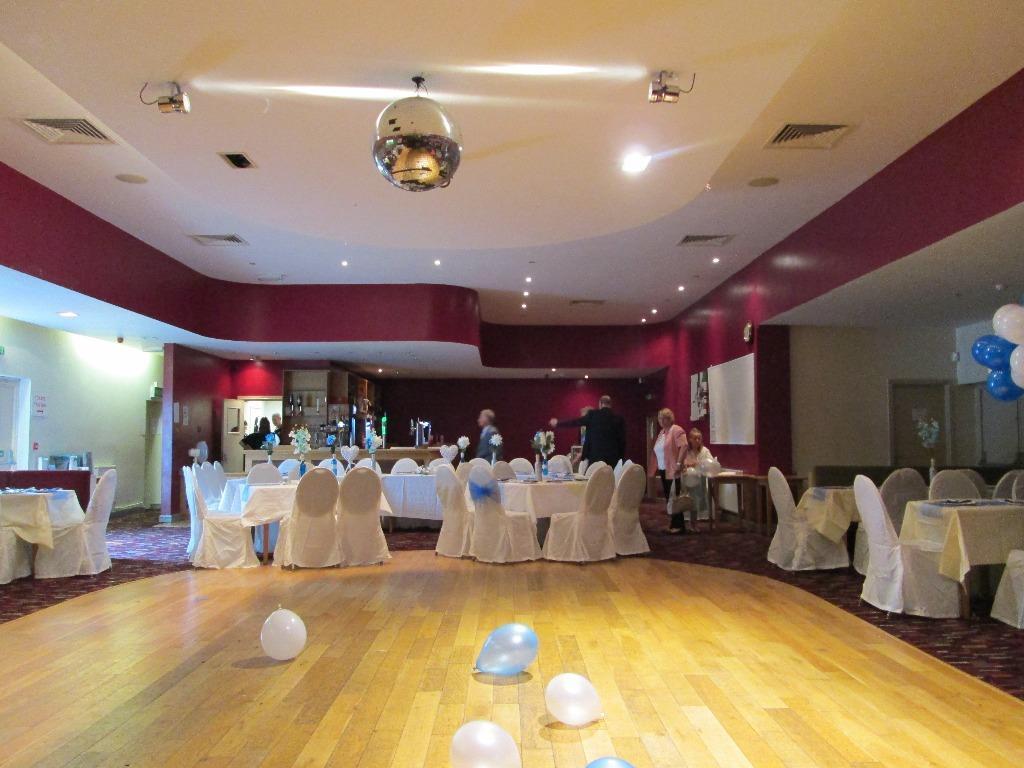 Starting a wedding decoration business can be easy. But, like any other business, it is important to do your research and work hard to help you save money in the beginning and make money once the business gets off the ground. Time management will be critical to your success, as will surrounding yourself with help you can afford and customers who are worthy of your efforts. It is helpful if you have experience working in the decorating industry before starting your own business, but experience is not necessary if you have the passion and skills needed to start and operate your own successful wedding decorating company.
Instructions
Define the scope of your business: Wedding Cake Decorator, Wedding Florist, or a more general Wedding Decorator. This will help establish your services as well as target your customers and help you figure out what supplies and resources will be necessary.
Register your business and obtain a tax ID number. This can be done using several online sites or legal services, such as http://www.business.gov/register/incorporation or www.legalzoom.com, or through your state's government website.
Create a website. This will be one of the most important tools for marketing for your business. The website should contain all your contact information (name, number, address, email, business hours). Spend extra time to make sure your website represents your work and your tastes; you want the site to be welcoming representative of your work and your business model. Show some samples of your past work on the site, if possible.
Put together a portfolio to display your past work. If you do not have good photos of past work, volunteer to do some events for your family or friends, or offer to do a couple of free or reduced-fee gigs to build your portfolio. This is an important step to landing potential clients, so make sure you have the right pictures that show off your work, as well as testimonials from previous clients that promote your work. Your portfolio should be in digital format on your website as well as printed in hard copy in a portfolio notebook to show potential clients in person. Perhaps you can make arrangements with a wedding photographer to use some of her images on your website in return for promotional credits and a link to her site.
Establish a location to host meetings with potential clients. This can be at a home office, a rented office, or an appropriate restaurant. Make sure the location is welcoming and it enables you to show your work effectively. Many clients like to preview the decor that will be displayed at their wedding, so choose your meeting space carefully and pick something that will give you the most flexibility in terms of demonstrating your work.
Find efficient and affordable marketing tools. Get your service out by printing fliers or coupons, advertise on line on wedding sites and social media sites, and encourage your previous clients to spread the word to their friends, family, and coworkers. It is important to establish a reliable reputation.
Research all the potential decoration supplies you will need. The decoration possibilities are endless, so plan ahead by drawing some designs out and making a list of all the supplies you will need for your vision, style, and versatility. Set your budget appropriately; supplies can be very costly and expenses can be wasteful if the research and planning is not done carefully. It helps to start small and expand your offerings only when you can afford to.